August Burns Red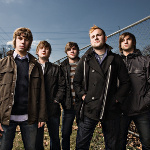 © solidstaterecords.com
Empfehlung
Geheimtipp
Als ob der Fuel Mp3 Sampler noch nicht genug wäre, legen Tooth and Nail, Solid State Records und BEC Recordings noch einen weiteren Sampler oben drauf.
Teilweise überschneiden sich die Tracks mit denen aus dem Fuel Sampler, aber auch hier kann ich einen Download nur wärmstens empfehlen - Indie Musik aller Stilrichtungen für lau!
Tooth And Nail hat seinen Fuel Mp3 Sampler erneuert - in gewohnter Spitzen-Qualität und mit einigen neuen Bands, aber auch vielen alten Hasen aus dem Portfolio von Tooth And Nail und Solid State. Ein Download lohnt sich auf alle Fälle
Zum Download muss man seine Mailadresse hinterlassen - der Link zum Download wird dann dorthin geschickt.