Newsboys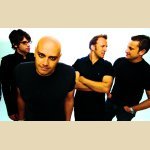 © Inpop Records
Empfehlung
Geheimtipp
Vielen Dank an Jörg für diesen Link.
Unten rechts auf der Seite findet ihr einen Link zum nbradiov2.0 und darin eine Jukebox mit über 70 (!) Liedern der Newsboys. Das allerbeste ist, dass man sich mit einem Rechtsklick über Download this song jedes dieser Lieder herunterladen kann.
Mit dabei sind Aufnahmen von aus den Alben Read All About It, Hell Is for Wimps, Boys Will Be Boyz, Not Ashamed, Going Public, Take Me to Your Leader, Step Up to the Microphone, Love Liberty Disco, Thrive, Adoration: The Worship Album, Devotion, Go, In the Hands of God, dem Livealbum Houston We Are Go und der Compilation The Greatest Hits. Kurzum - ein Querschnitt aus über 20 Jahren Newsboys mit über 5 Stunden Musik.